Author Praises Our 'Fabulously Talented Storytellers'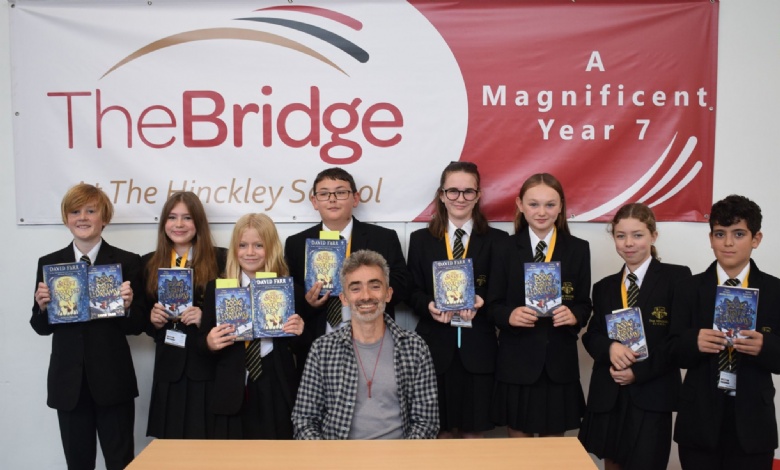 Author David Farr inspires students in Year 7 to become writers.
On Monday 26th September students and staff at The Hinckley School were delighted to welcome David Farr, author of 'The Book of Stolen Dreams' and 'The Secret of the Blood Red Key'.
Organised by our Librarian, Ms Crisp, the event saw all of Year 7 gather in The Bridge where they met David for an inspirational talk and took part in a creative writing task. Students heard about David Farr's background in play writing and TV, including writing 'The Night Manager' and how lockdown and his family inspired him to write his first book. David captivated the audience as he read exerts from both of his books and students engaged eagerly when they had opportunities to share their thoughts and opinions on characters and storylines.
In a later part of the event, students split into groups of three to write one opening sentence to a story. David then selected nine students at random to read out their sentences, praising them for their imagination, creativity and writing skills, as well as sharing useful and supportive feedback and suggestions for continuing the stories further. On social media after the event David Farr praised students at The Hinckley School sharing that they were, "A fabulously talented bunch of storytellers."
"A fabulously talented bunch of storytellers." - David Farr
Ms Crisp collected in all of the opening sentences after the event and will be creating a display to showcase the fantastic work.
The event will hold a special place in the memory of many for years to come and many students are now unable to put down their copies of 'The Book of Stolen Dreams'! One student even proudly told David as he left that the event had inspired him to become a writer.